Whether you're a food blogger or an e-magazine author who needs high quality food stock photos for your articles but don't shoot your own, a social media manager who runs social media campaigns for food companies, nutrition firms or restaurants and needs pictures to get more clicks, a designer who needs awesome food photos for your client projects, read on!
In our previous post, we have curated a big list of websites where you can download free stock photos in high quality, which FoodiesFeed is among them. FoodiesFeed is the perfect place to get the high quality food stock photos you need. 90% of them are completely free! License? Practically none. You can use images from this resource for both personal and commercial purposes. You don't even need to mention the author if you don't feel like it, no attribution needed. The one and only condition is that reselling the images isn't allowed. But selling the final product or service including the photos you download there is completely fine.
FoodiesFeed provides high quality food stock photos in various categories, from fruit & vegetables, breakfast & deserts, pasta & pizza, coffee & drinks, etc. All photos are tagged well, so you can find similar ones pretty easily – "close up", "burger", "hands", "paleo", etc. A thing worth mentioning is that the pictures are usually from different points of view available to download. You like that "beef steaks barbeque" but you'd need to have a shot from a different angle? No problem! You can find various angles of the same object photo in the collection.
High Quality Food Stock Photos
You think the free photos are not that bad but you need something more? Check out the Premium section of the website. Basically, they offer their visitors a premium membership only for $49 and what you get is a lifetime access to all their premium pictures they've ever taken and they'll ever take. It means, FoodiesFeed will keep adding new premium photos into the collection in the future, but you don't need to pay again anymore. Sounds a really good deal! Check out some of the premium photo examples below: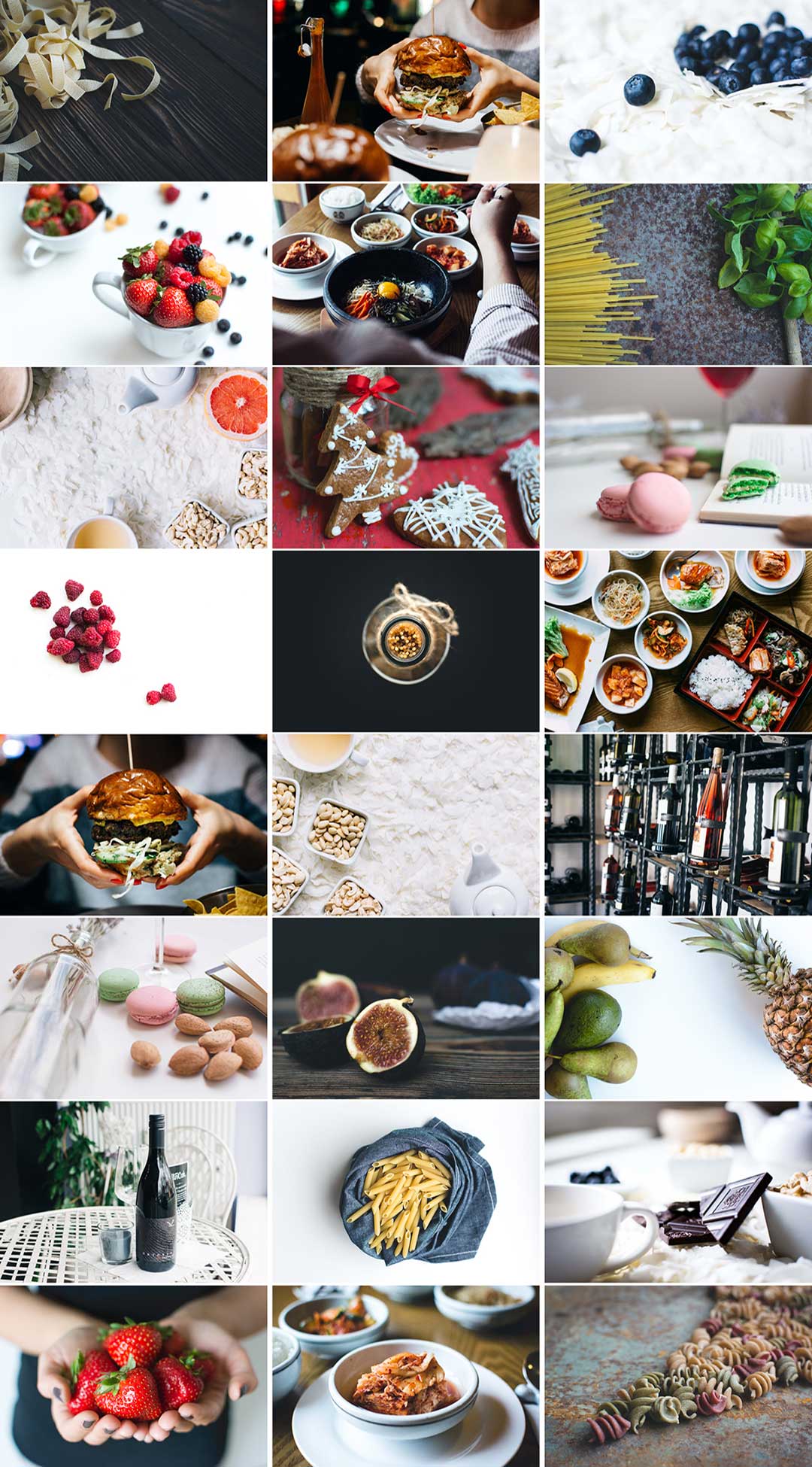 But why do you need the premium stock photos if they provided the free stock photos?
Eerybody loves free stuffs, doesn't it? So, a lot of people have been using the free stock photos version in their personal food blogs, ad banners, or basically everywhere. In other words, you need to avoid overused stock photos. Good professionals would think, "I need something more unique and looks more premium than the others have".  If you want to engage your seriously, you need to go for the premium photos package.
We at SingleStroke have been using those high quality food stock photos from FoodiesFeed on our projects. We also purchased the FoodiesFeed Premium package and use them for our own themes demo pages. Thanks to them, our demo pages look awesome and we can't stress enough how important this resource has become for us. We can honestly recommend you FoodiesFeed Premium package. You can grab this lifetime access, in only $49, and it totally worths it!
Get FoodiesFeed Premium for $49
We love to share our experiences with that FoodiesFeed Premium package. If you decide to purchase the package, we hope you would also love it as much as we do. Or if you have purchased the premium package, you can share your thoughts in the comments section below, or you can directly contact FoodiesFeed for feedbacks. Thanks for reading!